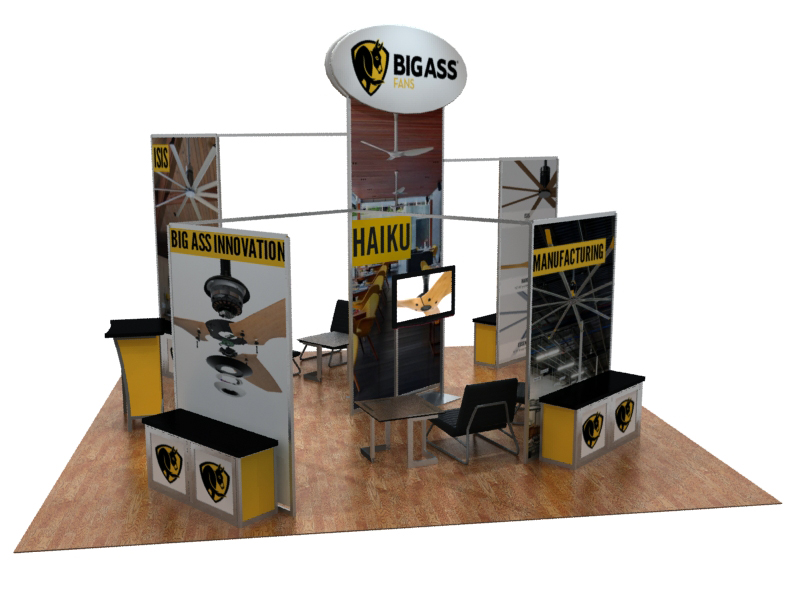 You exhibit at trade shows to generate qualified leads and showcase your company's products and ideas.Your are also there to listen to prospective clients and hear what their expectations are.
So, how do you make certain that your booth is not lost in the shuffle? In trade shows, as in life, you have to take chances to get noticed. Remember, that a first impression only comes once.
Ten Easy Ways to Shine
1. Develop a Theme
It doesn't have to be elaborate or expensive. It just has to be related to your company or to your sales pitch. For example, if your company sells coffee, you could have a coffee shop theme, complete with staffers dressed as baristas, and lattés made to order. Or you can tie your theme to your company's geographic location. If your company is based in Texas, consider going with a western theme.
2. Stellar Use of Audio-Video Materials
Think about adding a video kit to your portable or modular display. This is often as simple as adding monitor mount, a monitor, and a keyboard shelf or counter. Interactive A/V presentations can be engaging, informative, and informative. Like a moth to a light bulb, trade show attendees are drawn to professionally produced video presentations
3. Use Special Effects to Impress
If your company markets cosmetics made from natural ingredients play a recording of rainforest sounds. Using a spotlight is a great way to highlight your flagship product.
4. Provide In-booth Hospitality
This can be something as simple as coffee, tea, and pastries or something more elaborate.
5. Music
Choose something appropriate to your company, not elevator music, but something that won't overpower your presentation. If your company markets snowboards, you may choose high energy rock music. Just remember to keep the decibels at a reasonable level!
6. Scents and Aromas
Go beyond sound and vision. Appeal to all five senses if possible. For example, real estate agents know that the scent of home-baked cookies can evoke sentimental emotions and promote sales. You may wish to consider this approach if your company sells kitchen appliances. Free cookies can't hurt either!
7. Promotional Items
Imprinted pens, calendars, and t-shirts will keep your company's name and logo on people's minds every time they use them.
8. Raffles and Giveaways
Think creatively when sending out your press kit and pre-show promotional materials. Consider including a raffle ticket and letting prospects know they may have already won a free gift.
9. Feature a Company Mascot
You can design your own or for a less expensive alternative you can a rent a costume for one of your staffers to wear, or even contact local theater companies for props. In a crowded hall, a costumed character will stand out, and draw people to your booth.
10. Hire a Celebrity Spokesperson
It doesn't have to be a supermodel or an "A" list celeb. Consider a local news personality or athlete.
These are just a few suggestions on how to get noticed at your next trade show. Don't forget to work with a professional exhibit designer. The right exhibit with the perfect graphics will go a long way toward highlighting your unique products and services. Getting noticed is half the battle. Getting noticed for all the right reasons is the other half.
Contact Us
For more information about trade show or event marketing, give us a call or Contact Us. We welcome the opportunity to assist you with your next event.
Article Author:

Mel White, CEI